Your shoes will no longer get wet or dirty!

Do you get cold feet easily because your shoes get wet? Are you afraid that your beautiful new shoes will get dirty? Our waterproof silicone shoe protectors are the ideal solution for you. These covers fit perfectly on any shoe and can be worn by anyone. With a Waterproof Shoe Cover, you can make sure your shoes are protected in the rain, snow, or during a long walk.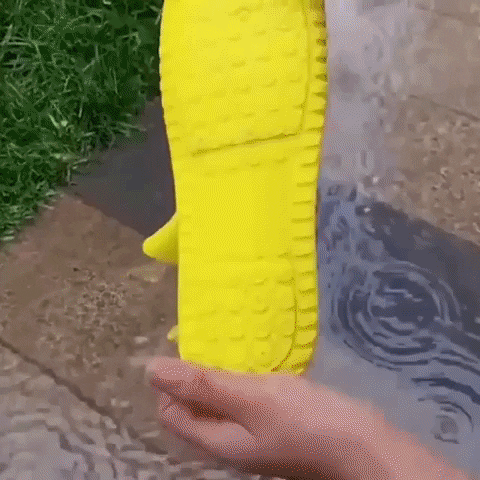 The shoe protectors are made of high-quality silicone and have a non-slip bottom, so they can be worn in the snow to prevent slipping. The durable material ensures that you can use the shoe protector again and again, and thanks to the compact size with plenty of stretches, you can easily take it with you on trips.
Why do our customers LOVE this product?

✔ Easy to use - just pull the shoe protectors over your shoes and they fit perfectly, so you'll never have wet shoes again.

✔ Durable - The shoe protector is made of a durable and easy to clean material, so you can wear it every day, even on a long hiking vacation.

✔ Anti-slip - since the shoe protector has a non-slip bottom, they are perfect for cold winter days with lots of snow and sleet. You can be sure that you won't slip anymore.

✔ Compact - the shoe protector is easy to fold, so it takes up little space in your bag and you can take it anywhere.
 Specifications
Material: silicone
Size: S (shoe size 28-34)/M (shoe size 35-39)/L (shoe size 40-44).
Color: Yellow/White/Gray/Blue/Pink/Black
Content: 1 pair of Flexi™ Waterproof Silicone Shoe Protector
Due to the high vitality and our sale, there are only a few Flexi™ left. Do you want to improve your appearance and feel more confident? Don't Wait too long because we are almost out of stock!
24/7 Customer Service: You deserve to be helped quickly. That's why our support team is always available, 24/7.
Free Priority Shipping: You deserve top priority and fast delivery. If you order today before 23:59, your package will be on its way to you by tomorrow. We will pay the shipping costs, and you always receive a tracking number.